Wanna see what's going on back in the motherland? Check out Al Ahram, the biggest newspaper back home, and see what's new this week. This site gets updated weekly, so check back every week. It's cool stuff!
Ever been to God's country?  Click here to see what it looks like.  If you are looking for lots of information about Sedona, look here for a set of sites that is constantly changing (new sites added daily by my reckoning)
And speaking of God's country... If you ever go to the Arizona/Nevada area, you MUST go here.  For a list of sites about the place, click this and you will get lots of info!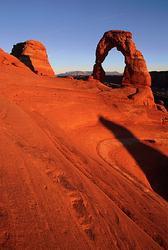 This is delicate arch in Arches National Park.   I have actually seen it from a different vantage, but it is still just as incredible from wherever you are when you look upon it.  The colors in this picture are slightly exaggerated because it was taken near sundown.  In reality, the colors are a little more like what you will see at the site, that is, more sandy.  The red rock look in this photo is more like what you would find in Sedona.
I have an affinity for the southwest, and Mesa Verde was actually the first place I ever experienced it.  These ruins amidst the red rocks at the feet of the mesa are haunting, and not just because of the circumstances under which their inhabitants abandoned them.
One of the most wonderful places I visited was Sweden. The site takes a while to load, but it's full of information that will help you decide where you want to go once you get there.
And just to shock those of you who thought you knew what my taste was like, I have to throw in this item: Of course, no travel guide of my favorite places would be complete without an item that includes the lighthouses of New Jersey. I will go back and visit all of them soon. I love lighthouses!