Take a look at Charred Rice and her uneven eyes (shhhhhhhhhhhhhhh don't say anything about her nose or about the fact that she is going to make mint cookies) on her web page. Try to click the "x" when you go there...
Jon's Steel beach site is really cool. I love the FP theme he used there. It's kinda like computing and plumbing all rolled into one, don't you think?
Take a look at my pal Bob's chunk o'net. Be prepared to learn something about southern pride when you visit him :-) and also be prepared to scream "ROLL TIDE" at the top of your lungs without knowing why. That's what he does! (Only I guess he knows why he's doing it).
Jessi is great gal. She can't remember how she met me, but it was in MSN chat. She used to make her own room, and her friends would go there. One of them invited me in, and that was that. Of course it was a long time ago (must have been about two years ago, and now we just chat in ICQ. Check out her page, and look at the drumline website. It's good stuff, and reminds me of when I was in marching band in high school.
Check out my friend Skippy. If you follow this link, please be sure to come back here and drop me a note telling me what you thought. I always have fun at her site, and I bet you will, too!!
Have fun at Lisa's site.  She is in the middle of teaching herself HTML (with a teeny tiny bit of help from me), and I think she's doing great!!  What do you think? Not bad for self-taught! Be sure to look at the pictures of her soulmate and the new family. I am so happy for you, Lece!
Check out my pal Dianna from New Jersey.  We've worked together, and she more than knows her stuff!! Be sure to check out her loser page. Be sure to!
Check out my chat friend HugMonster from County Antrim, Ireland, and his web presence.  Please be sure to say hello from me when you get there!
Listen to my chat buddy Lytti getting his head hit by a fry pan on his page, and be sure to go pet the kitty on the next page!  Good thing Bev doesn't really use the frypan on him like that any more.
Check out the legal perspective from Mark's page.
While you're surfing my friends' web sites, don't forget to stop in on The Yank & The Brit (SouthBeach/Cove neighbors of mine!  just a few doors down the lane), and wish them well on their good fortune to have met and gotten married!  I've known Gazza and Donutt as long as I have been chatting!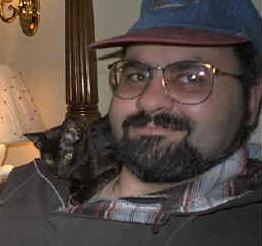 I used to think that my cats were going to have their own pages here, but they never did quite get the hang of FTP. It wasn't for lack of trying, though. I signed them up with MSN, got them hotmail accounts, set them up with MSN homepages - the works! They don't have their own web site, and now lots of things have happened that lead me to believe they never will. Poor kitties. The picture at left shows me with my artificial beard extension the week that she came to live with us.   She was around 4 months old in this picture, and she looked like a part of my beard!  Her name was Victoria Lynn, and she was also known as MONSTER!!! by those who knew her. I'd give anybody who thinks that cats are aloof 5 minutes before they changed their mind.
Want me to list your site here?  I will do it gladly, usually within minutes of you informing me that you want me to do so.  Let me know!