This is a set of pictures that my mom sent me after I came back home from trip out to NJ quite some time ago now. You can tell it was a long time because there is no Nammy, I was much more hairy, and there was much much more of me than there is now. See how long my hair was, and how badly my beard needed trimming? In spite of that, my lil Bungga and Teej still loved me!
Click the thumbnail to see the big picture, and then please use your browser's back button to come back here :-)
We won't dwell on the details, but we went bowling! I hadn't been to a bowling alley in years and years, and it was so much fun! I can't wait to go again and again. There was a bowling alley right near where I moved after this trip, and it would have been nice to go. I knew folks who bowled there! :-)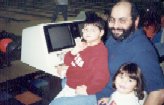 We had dinner at my sister's house that night after bowling. The battery in my pager died, and I really needed to be able to stay in touch.
My birthday was not too long before I went out there, so we celebrated it in style. Note the rich-looking cake. I am proud to say I did not have more than a tiny taste. The best part was the happiness and the celebration :-)
I just don't know what to say about this one. The three of us did this a few times, and I can't wait until the next time.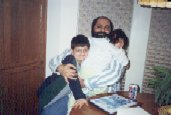 My buddy Teej and I just loved to hang out! He's always been so cool!